BARRELMAN BIO
"Radical" Ryan Rodriquez
Barrelman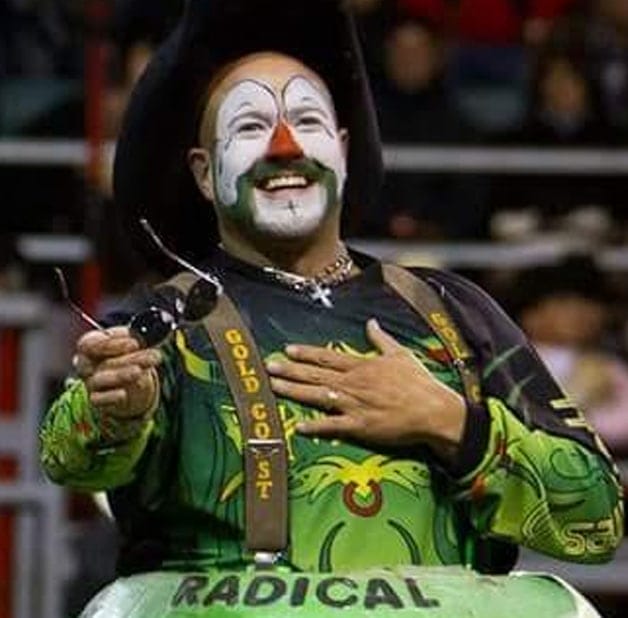 When he was a young boy growing up in Clayton, MI, Ryan Rodriguez, the son of Roy and Sharon Rodriguez, would wear the same costume every Halloween: a rodeo clown.
Rodriguez comes by his love of rodeo naturally. His grandfather was instrumental in the creation of the Michigan Ropers Association and his father is a champion calf roper. His brother Raul is a champion roper, steer wrestler, team roper and a pick-up man. In addition, sister Mindy was a barrel racer in high school and still enjoys competition.
Rodriguez has earned a great number of awards since making a commitment in 1992 to become a professional clown and barrelman. He has been Clown of the Year five times, Barrelman of the Year twice and Contract Act of the Year once. Rodriguez has performed all over North America, from regional championships to tour finales in Las Vegas, Omaha to the National Western Stock Show in Denver, including at the famous Calgary Stampede in Calgary, Alberta, the largest rodeo in the world.
Despite what the name implies, a rodeo clown has a specific purpose — and it's not just to make people laugh, though that is a big part of it. A clown works with a barrelman to divert the bull's attention from the rider who has been ejected from the back of the bull and can be in a very vulnerable position. Rodriguez has done both jobs — clown and barrelman, noting it is a serious task.
"You are protecting that rider by giving the bull something else to think about," he said.
Awards
Career Highlights: has worked at the College National Finals Rodeo the last few years
NCRA Clown of the Year
MSRA Clown of the Year
Contact Act of the Year
MSRA Barrelman of the Year
IFR Barrelman
PRCA Card Holder
World's Toughest Tour
MGM GRAND Las Vegas Tour Finale
Omaha Tour Finale
Winner of the International Professional Rodeo Association's Clown and Barrelman of the Year in both 1999 and 2000.
When it comes to 'Putting the Bling in the Rodeo Ring!', Ryan has no problem doing just that. "Radical" Ryan Rodriguez has been entertaining fans since 1992 when he made a commitment to his dream of becoming a Professional Clown and Barrelman.
One of Ryan's biggest accomplishments since he started being a full-time rodeo clown was winning the International Professional Rodeo Association's Clown and Barrelman of the Year award in both 1999 and 2000. He has since joined the Professional Rodeo Cowboy Association and the Canadian Professional Rodeo Association, where he continues to achieve great success.
Ryan has been entertaining all over North America in such prestigious events as the Calgary Stampede held in Alberta Canada in 2001-2003, which is the world's largest rodeo with over 1.5 million in attendance. He has also been to the Omaha Pace Picante Tour Finals in Las Vegas; twice to the Salinas rodeo in California; Dodge World's Toughest Tour; Denver Stock Show and Rodeo; PBR events in both the US and Canada; and five times Circuit Finals Clown to name only a few! A favourite with fans, Ryan has also been entertaining at the St-Tite Western Festival held in September each year for eight years.
Ryan has made entertaining people and promoting the sport of rodeo a way of life. Ryan once said "I would work 365 days a year if I could. I love what I do and enjoy making people laugh. It never seems like work when you are making your dreams come true."
Ryan has also been working Monster Truck Show with his two son; Rad and Riot making crowds laugh.